Almost a quarter of the Yellowstone Art Museum's annual budget will be raised during the Art Auction 49 on March 4.
The fundraising aspect of the auction is important, but beyond that is the exposure the auction brings to the contemporary art museum and to the 141 artists who are part of the sale this year. One hundred of those artists are from Montana and the others come from across the country.
Senior curator Bob Durden and his staff have been installing almost 200 pieces of the art over the last few weeks in preparation for the opening reception on Jan. 19 at 5:30 p.m. The exhibit, which is on display through March 4, reflects a range of contemporary artists working in bronze, oil, acrylic and other materials.
Tickets for Art Auction 49 will go on sale that night for $95. They cost $105 at the door on the night of the auction.
Some artists are making their debut in this year's curated show, and others, including Billings abstract painter Neil Jussila, are looking at decades of involvement in the auction.
Regional vibe
Artists donate 50 to 100 percent of the proceeds from the sale of their work. Part of the excitement on auction night is watching Quick Draw artists finish pieces that are then auctioned at the start of the live auction.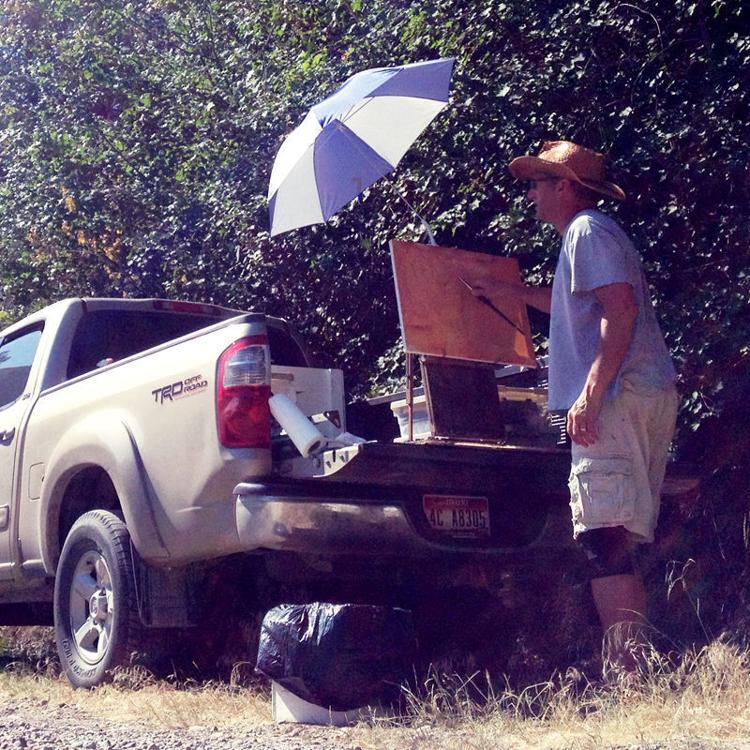 Idaho landscape painter Dave Mensing has been part of the YAM auction for six years. He said it's an important achievement in his career to be selected for the auction because it has brought him attention from across the region.
"I heard from collectors after the auction who contacted me and made comments about my work," Mensing said. "It's always good to get your work in front of people."
This year Mensing has two works in the auction, including "Modest Glory," a 24 -by 30-inch oil on canvas appraised at $3,200, which will be sold at the live auction, and "Sagacious," a 9-by-12 oil on canvas appraised at $875, in the silent auction.
A glorious scene
A spiritual artist who lives in tiny Albion, a town of 270 people in southern Idaho, Mensing tries to capture the light as it touches the edges of forms, like trees or water, by using a red underpainting.
"One of my paintings, 'Modest Glory,' has trees and the moon as the sun is dropping down in the sunset. The title doesn't say anything about the trees, which are just a row of trees north of here that we see when we are out camping. It's not a place that anybody would say, 'You should go see those trees." But in the right moment, it can be a glorious scene."
Mensing believes that the spiritual state he is in when he paints should come through in his paintings. 
Many pieces begin with a red underpainting applied with a brush and then Mensing uses a palette knife to apply thick layers of paint that he mixes on the canvas.
After studying architecture in college and beginning his career as an architect, Mensing turned to painting full-time a dozen years ago.
"I was pleasantly surprised when I started getting into painting by how much I relied on architecture. It's the relationship of shapes and designing shapes," he said.
Helena artist Sandra Dal Poggetto also translates the landscape in her mixed-media paintings, but she works to break open the conventional approach to landscape painting.
Dal Poggetto has participated in the YAM auction many times over the years because she wants to support the museum.
'Raw and closer to the nerve'
Growing up in Northern California, Dal Poggetto enjoyed exploring the Sierra Nevada range and hunting upland birds. When she arrived in Helena almost three decades ago, Dal Poggetto started deer hunting with her husband. She views hunting as a vehicle to develop a more in-depth understanding of the landscape.
"That's what I am interested in, something that is raw and closer to the nerve than sitting back and taking in a beautiful landscape. It's really about getting closer to natural systems and processes, that's what I am interested in."
Through her involvement in the art auction, Dal Poggetto said her paintings have attracted new collectors in the area.
This year, Dal Poggetto has one work in the live auction, "Relict, #6," an oil, soft pastel and graphite on paper with a value of $2,200.
Rather than paint individual trees or branches, Dal Poggetto aims to evoke the natural world with gestural marks, which she calls "condensations."